I've been doubtful of this remake ever since I first heard of it. A remake of The A-Team? Seriously? Why? I loved the show as a kid, and it just seems such an unnecessary remake to, well, remake. And then the first casting rumours were released: Liam Neeson as Hannibal? He's a great actor, but I can't picture him as Hannibal. It just seems… wrong.
Other castings were Bradley Cooper as Lt. Templeton 'Faceman' Peck, Quinton 'Rampage' Jackson as Sgt Bosco 'B.A.' Baracus and Sharlto Copley as Capt. 'Howling Mad' Murdock. Hmm, Bradley Cooper. Could work, but not as clean or slick as I always imagined Face to be. The other two? Haven't seen either of them in movies (yeah, I still have to go see District 9), so can't really say much about them.
The first official photo was released last week though, and we finally get to see our characters for the first time: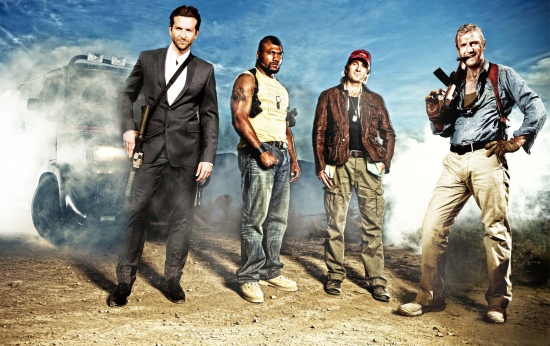 Interesting. I'm liking Rampage as B.A. (although I'll can't be convinced before he opens his mouth) and Sharlto Copley as Murdock. Bradley Cooper still on a "could work" for me, but with slightly better odds. Liam Neeson… I know people like how bad ass he looks, and some think he's got the Hannibal look down. But for me? I'm still not feeling it. A part of me hopes I'm wrong and I'll await further judgment until I see footage/trailer, but so far I'm just preparing myself to be disappointed.
Via /Film