It's event season! At least I definitely always feel as if May, June and July are the busiest months with a ton of events going on. I've been quite slack in writing up the stuff I've attended and will be trying to catch up with that this week.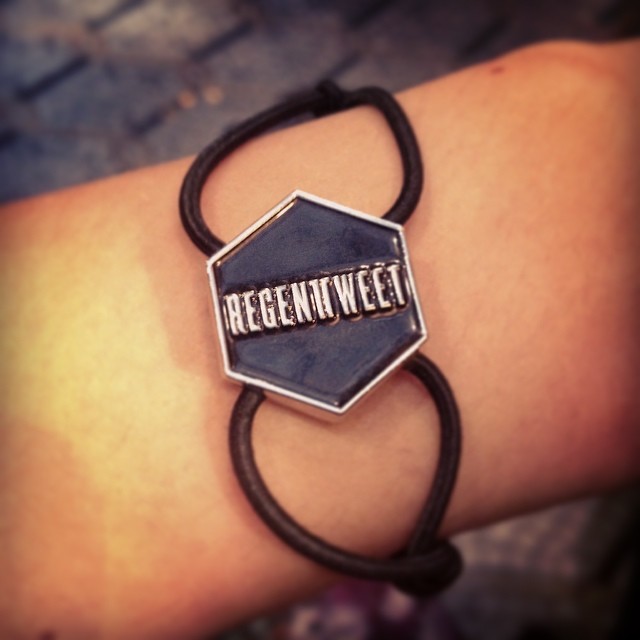 One of the events I look forward to every year is RegentTweet, a shopping day for bloggers to discover the different stores on Regent Street. It's in its fifth year now, and so far I've been lucky to attend 3 of them. They're always a lot of fun, plus you end up with lots of cool goodies from the various stores!
The idea of the day is pretty straightforward: each blogger gets a set of cards detailing the time and activity at a certain store. Sometimes it's to pick up a goodie bag, sometimes it's a taster session of food and drinks, other times it's a competition or presentation. I remember one of the first years where you could easily do all the cards/stores in one day. Now? So many companies are participating, you really need to choose which ones you want to go to!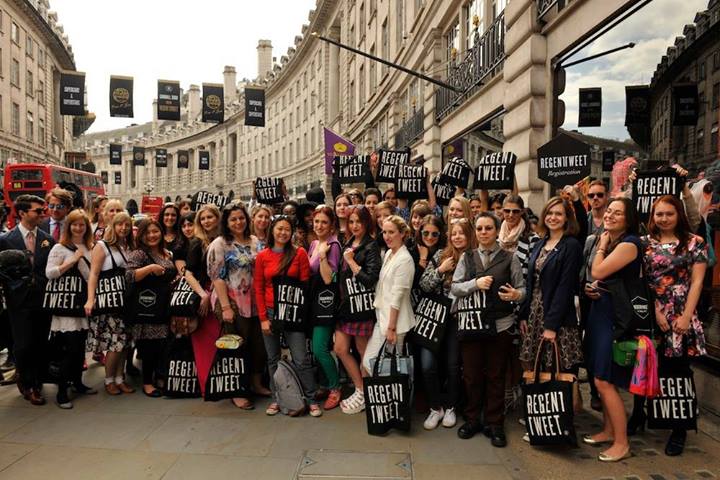 The RegentTweet basecamp this year was Brasserie Zedel. It's a lovely underground restaurant and cafe; I've walked past this place so often, but never realized how big the place actually is! We all started here to register and pick up our initial RegentTweet bag and info, plus a handy gadget charging bar had been set up to make sure you could tweet and cover the day. We also got lunch here at their main restaurant: a nice steak haché with pepper sauce and fries (see image below).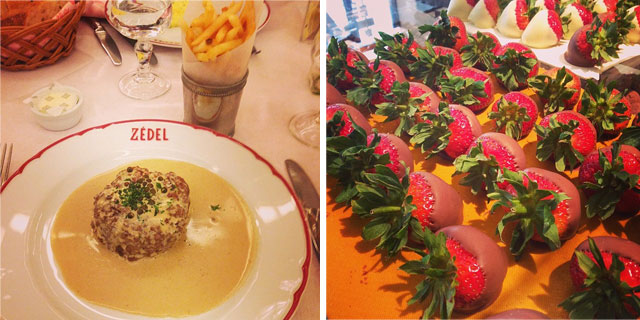 That wasn't the only food and drinks that we got to enjoy though. Throughout the day there were various restaurants and cafes that were providing lovely refreshments for us. I love the chocolate dipped strawberries from Godiva; so pretty and so tasty!
I also enjoyed the coffee art session at illy's. Again I had no idea there was an illy's in Regent Street (it's just north of Oxford Circus), but I'm so going to come back more often! We got to see various techniques on how they made their coffee art; my favourite was the elephant you can see below. And of course we were allowed to have the coffees afterwards. I've always liked their ice coffees, but this is the first time I had their Neve Fondente: espresso with hot milk and cacao power topped with a layer of cold frothed milk. It's hot and cold at the same time!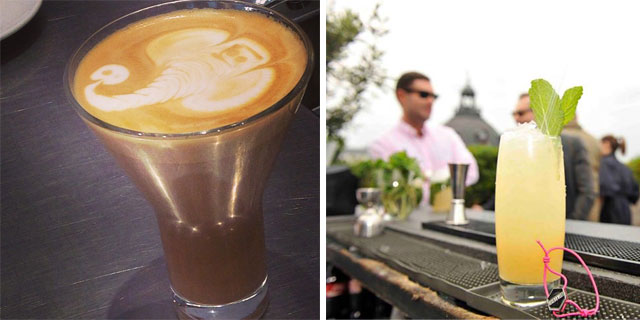 Another highlight for me was visiting the United Nude store. I adore their shoes: they're so unique and pretty, but somehow also quite geeky. We got to meet their creative director, Rem D Koolhaas, and actually see their 3D printers in action. We all were allowed to choose a 3D printed ring or bracelet that had been created in that store. So cool!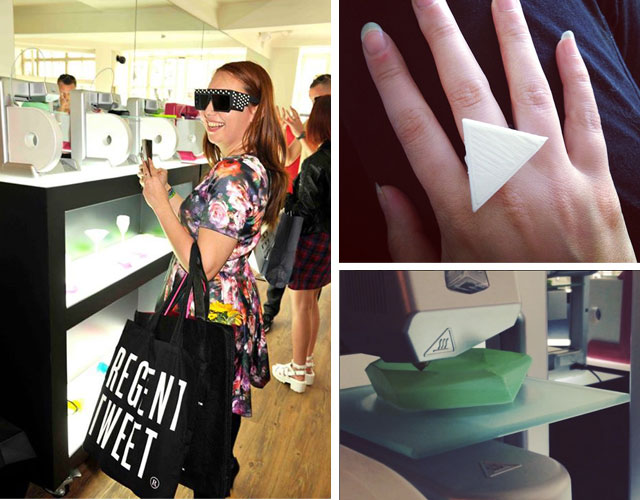 There were so many other things to do during the day, half of which I think i didn't get around to. Here's the RegentTweet video showing some of the highlights:
At the end of the day we ended up with a ton of gorgeous goodies! My favourites: a crease-free (!) white shirt from Brooks Brothers, an espresso cup from illy, a £50 voucher from Banana Republic (I'll blog about the dress I bought with it later this week), lipstick and eye shadow from Kiki and peppercorn shower gel from Molton Brown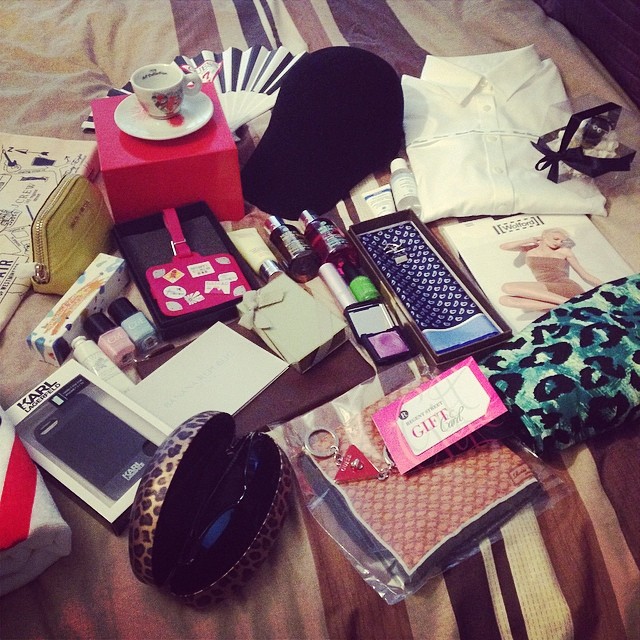 Like all the previous years, RegentTweet was a lot of fun! Thanks to Regent Street and Sister PR for organizing it and inviting me along. I can't wait to see what next year's one brings!