Being a Dutch-Australian living in the UK, means I'm not that acquainted with the whole Thanksgiving shebang and I certainly didn't know much about "Black Friday". So I did a bit of wikipedia-ing for all the non-USers out there: Black Friday is the friday after Thanksgiving and is basically the un-official beginning of the Christmas shopping season. Because it is the "busiest" shopping day of the year (it isn't, but that's beside the point), a lot of retailers hold special sales and deals to attract customers to their stores.
And one of them is the Apple Store. The great thing though is that it's not only US based; every single Apple Store has a special sale going on for that one day (today) only. And they've got some cool deals going on: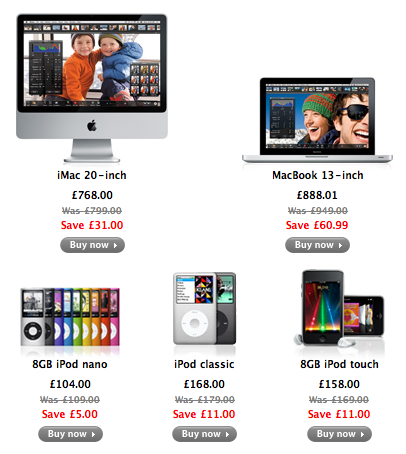 I'm tempted to get a shiny new MacBook, but I'll have to wait a couple more months until I get the money for that.